Hugo Borchardt
The Luger's direct ancestor, the Borchardt C/93 self-loading pistol was, one of the very earliest viable semiautomatic pistols available in any quantity. It was designed by Hugo Borchardt while in the employ of Ludwig Loewe & Co, Karlsruhe, Germany. Borchardt was born on the 6th of June, 1844 in Magdeburg, Germany and he died from a lung infection on the 8th of May 1925 in Berlin-Charlottenburg.
Borchardt left Germany for the U.S.A. when he was sixteen years old. His first job was as a production supervisor with the Pioneer Breechloading Arms Company in Trennton, Massachusetts. Later, he was a foreman at the Singer sewing machine factory and also worked for Colt and Winchester. In 1876, he was employed by Sharps in Bridgeport, Connecticut and then left America for Budapest in Hungary, where he worked for an arms manufacturer.
Borchardt developed the C 93 pistol for Ludwig Loewe Cie. in Karlsruhe in 1893. It was based on Hyram Maxim´s 1884 machine gun patent and on Winchester´s toggle action on their lever-action carbine.
The pistol fired a round with the same dimensions as the 7.63 Mauser cartridge, but a weaker powder charge. It should be noted that the Mauser semiautomatic pistol for which that cartridge is named was actually designed later at Mauser by the Feederle brothers, using ammunition provided by Ludwig Loewe and Co. While the Borchardt is similar to the Luger in the most important way, the use of toggle-action, the Borchardt pistol differs significantly from the Luger. The Borchardt features a straight up-and-down grip, and a bulky protrusion behind and above the grip that houses the mainspring and toggle mechanism.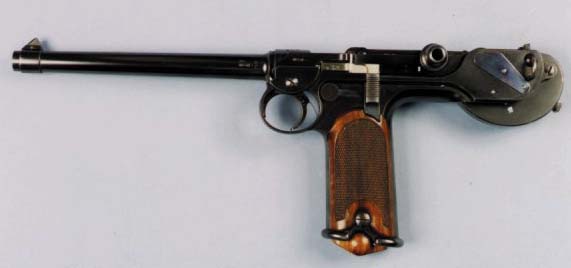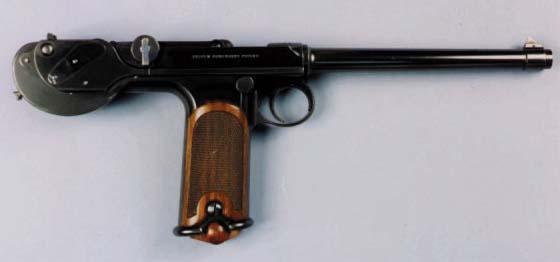 Borchardt reversed the toggle action and reduced its size so that the toggle opened upwards, providing space for the magazine underneath. While the Borchardt was a fine target arm, it was cumbersome and somewhat fragile, unsuited for use as a military side arm. It is also rather larger overall than the Luger, and it was never produced in very large quantities. Borchardt also invented and patented a number of household electrical appliances and equipment for gas lighting and heating.
Courtesy of Patrick